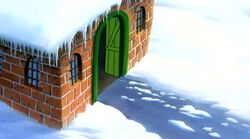 The Reindeer School is a building that appears in Rudolph the Red-Nosed Reindeer: The Movie. It is the school Rudolph, Zoey and Arrow attend.
It makes one appearance in the film where the students talk about The Junior Reindeer Games and Medals of Valor. But when Rudolph says he would like to be a Flyer, Arrow tells him "Not with that nose!" before he and the rest of the class except Zoey and the teacher Mrs. Prancer laugh Rudolph out of the school in tears.
The school also appears in the books Rudolph the Red-Nosed Reindeer: A Retelling of the New Animated Movie and Rudolph Saves The Sprites where it is shown that Rudolph attended there as a teenager as well.
Known Staff
Edit
Known Students
Edit
Ad blocker interference detected!
Wikia is a free-to-use site that makes money from advertising. We have a modified experience for viewers using ad blockers

Wikia is not accessible if you've made further modifications. Remove the custom ad blocker rule(s) and the page will load as expected.