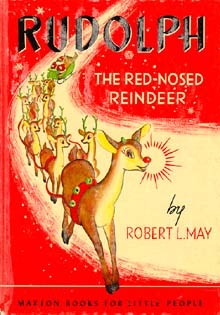 Rudolph the Red-Nosed Reindeer is a 1939 book written by Robert L. May and published by American retail store Montgomery Ward.
The story follows a young reindeer named Rudolph, who was born with a red nose which could light up. Because of this, Rudolph was treated like an outcast by the other reindeer in his village.
On Christmas Eve, Santa Claus does his deliveries and comes to Rudolph's house and notices his nose light up. Santa awakens Rudolph and asks him to use his nose's light to help him and his reindeer through the storm to which Rudolph agrees.
Following this, Rudolph returns to his village and is finally accepted by the other reindeer.
Film and Television Adaptions
Edit
Ad blocker interference detected!
Wikia is a free-to-use site that makes money from advertising. We have a modified experience for viewers using ad blockers

Wikia is not accessible if you've made further modifications. Remove the custom ad blocker rule(s) and the page will load as expected.