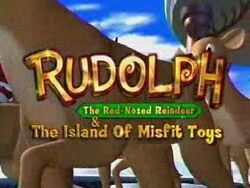 Rudolph the Red-Nosed Reindeer and The Island Of Misfit Toys is a 2004 computer animated film and by Walt Disney Pictures, the same company who made the 1998 Movie.
When the evil Toy Taker takes all of Santa's toys, it's up to Rudolph and his friends Hermey, Yukon Cornelius, Clarice and Bumble to stop him and bring Christmas to the children of the world.
Despite being set after the 1964 film, Rudolph and Clarice appear younger than they did at the end of the original film.