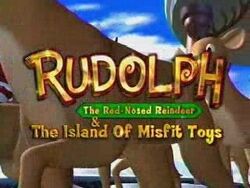 Rudolph the Red-Nosed Reindeer and The Island Of Misfit Toys is a 2001 computer animated film and by Goodtimes Entertainment, the same company who made the 1998 Movie
When the evil Toy Taker takes all of Santa's toys, it's up to Rudolph and his friends Hermey, Yukon Cornelius, Clarice and Bumble to stop him and bring Christmas to the children of the world.
Kathleen Barr as Rudolph, Mrs. Claus, Dolly, Peggy the Piggy Bank, Tooth Fairy, Rocking Horse, Adina
Lucy McNeil as Annie, Selena, Lily Grace, Unicorn, Princess Lucille
Scott McNeil as Hermey, Yukon Cornelius, Boomerang, Comet, Duck
Garry Chalk as Santa Claus, Bumble
Erin Brown as Demi, Angel Girl
Jessica Roberts as Bonnie, Devil Girl
Emma Goldberg as Anaya
Sophia Grace Brownlee as Valerie, Kiera, Mily Rose
Rosie McClelland as Lizzy and Sara
Richard Dreyfuss as Scoop T. Snowman
Rick Moranis as Toy Taker/Mr. Cuddles
Don Brown - Toy Taker's Vocal Effects
Bruce Roberts as Toy Taker/Mr. Cuddles, Kite and Scoop T. Snowman's Singing Voice
Jamie Lee Curtis as Queen Camilla
Elizabeth Carol Savenkoff as Clarice
Shawn Southwick as Queen Camilla and Clarice's singing voice
Colin Murdock as King Moonracer, Reindeer #1
Peter Kelamis as Elf Foreman
Brent Miller as Hank
Lee Tockar as Charlie in the Box, Wind-Up Mouse, Gingerbread Guard
Terry Klassen as Telephone, Dizzy Top
Alec Willows as Kite, Additional Voices
Despite being set after the 1964 film, Rudolph and Clarice appear younger than they did at the end of the original film.
Ad blocker interference detected!
Wikia is a free-to-use site that makes money from advertising. We have a modified experience for viewers using ad blockers

Wikia is not accessible if you've made further modifications. Remove the custom ad blocker rule(s) and the page will load as expected.