Zoey's father is a character in Rudolph the Red-Nosed Reindeer: The Movie, the husband of an Unnamed doe and is the father of Zoey.
He is first seen briefly along with his wife and daughter watching Santa and the Flyers take off during The Christmas Eve Launch.
He is then seen years later with his wife along Blitzen and Mitzi asking Santa for help after Zoey leaves to find Rudolph.
He is seen near the end of the film with his wife, Santa, Blitzen and Mitzi just moments before Rudolph, Slyly and Leonard arrive from saving Zoey from Stormella. He and his wife then reunite with their daughter and is last seen standing next to Arrow with his wife and daughter watching Rudolph, Santa and the Flyers return from delivering gifts through the storm.
Description
Edit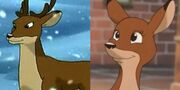 Zoey's father has dark brown fur, black tipped ears, dark brown eyes and long antlers. He passes his fur tones to his daughter though Zoey is a shade lighter than him due to getting light tones from her mother.
Unlike his wife and daughter, Zoey's father has no lines in the film.
Ad blocker interference detected!
Wikia is a free-to-use site that makes money from advertising. We have a modified experience for viewers using ad blockers

Wikia is not accessible if you've made further modifications. Remove the custom ad blocker rule(s) and the page will load as expected.